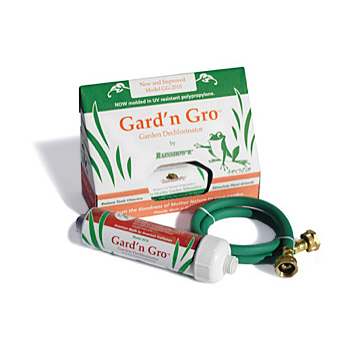 If you have chlorine in the water going into your home, you also have it coming out of the spigots on the side of your house and therefore it also flows out of your garden hoses, lawn sprinklers, etc.
For those of you with nice cars that you like to hand wash or gardens that you'd like to keep chlorine-free, you may want to look into the the Gard'n Grow Water Filter designed to convert potentially harmful chlorine into harmless chloride compounds via a simple "redox" reaction catalyzed by a special copper and zinc.
Easily installed between the average garden hose and the faucet/spigot on the side of the house, the Gard'n Grow Filter by Rainshow'r uses KDF as its filtration media in a replaceable cartridge which lasts for up to 40,000 gallons, does not decrease flow rate by much, and removes 85% of chlorine from source water.
Rainshow'r produces high-quality, 100% carbon-free shower filters, chlorine-removing bath balls and garden water filters. You may find their products distributed under both the Rainshower and Rainshow'r brand names.