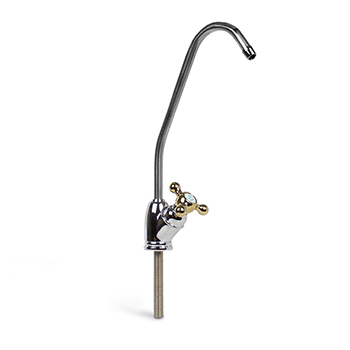 Now that you've tested your drinking water with a water test kit from SenSafe or WaterSafe to get a preliminary idea about the condition of your drinking water, and followed up with a thorough water test performed by a certified water testing laboratory, you may need (or simply want) to get a drinking water filtration system for your home.
In the old days people had to make due with unattractive, bulky water filtration systems sitting on their counters and standard, non-fashionable faucet styles if they wanted a POU (point-of-use) water filtraton system. Not anymore.
Companies like Crystal Quest now manufacture POU water filtration systems that mount neatly out of site under the sink AND good-looking faucets designed specifically to work with them.
Below you will find a selection of Crystal Quest water filtration systems that hook up under the sink. Each filter operates a little differently so make sure you read the descriptions carefully to make sure you choode the perfect Crystal Quest water filter for your water's needs.