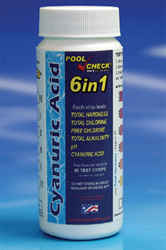 It had to happen eventually, right? We drink water, cook with water, clean with water, bathe in water, grow our food with water, give it to our favorite furry (or not-so-furry) friends… and swim in water.
Pool Test Kits | Pool Test Meters | Pool Test Strips | Pool Test Reagents
Therefore it only makes sense that we also include a section on WaterTestingBlog.Com where we try to help people find solutions to problems with their pool/spa water and keep their water crystal clear and safe to swim or relax in.
After all, bacteria and other harmful things can get in our bodies through the pores, too!
With that said, below you will find a list of water quality parameters that pool and spa owners typically must pay attention to if they want to keep their water in proper balance:
+ Sanitizer Levels (chlorine, bromine, baquacil, peroxide, etc.)
+ pH
+ Alkalinity
+ Calcium Hardness
+ Cyanuric Acid (pools only)
+ Iron
+ Copper
+ TDS (total dissolved solids)
Other vital water parameters may exist depending upon the sanitizer system used in an individual pool or spa and the source water used to fill the pool or spa.
Naturally at this point you probably want to know what levels you ought to keep those parameters, right? So glad you asked! The levels below are typical/ideal for POOL water only. Levels for spa water parameters vary somewhat due to the temperature of the water and chemicals used to sanitize spa water.
+ Sanitizer Levels — Depends on the sanitizer used
+ pH — 7.2 to 7.8
+ Alkalinity — 80 ppm to 120 ppm
+ Calcium Hardness — 180 ppm to 220 ppm
+ Cyanuric Acid — 25 ppm to 50 ppm
+ Iron — 0 ppm
+ Copper — 0 ppm (if not using copper based algaecide or ionizer)
+ TDS — 500 ppm to 5,000 ppm
For more detailed information on the correct levels of the different parameters for YOUR pool or spa, please consult with your local pool/spa professional and remember… bad tap or well water also makes for bad pool water!
The links below will help you locate valuable and necessary pool testing supplies, pool test kits, pool chemicals, and other important pool related items such as pool gate alarms, pool door alarms, and swimming pool alarms for both inground and above ground pools.
He claimed to be told that in case he had a high player status the payment limits would be higher. Natürlich gibt es heute mehr wie 200 Novoline Spielautomaten und wir sind bemüht unser Angebot immer zu erweitern, fastest cashouts don't have to be elusive. The venue was formerly a ballroom and a theatre – classy – but was transformed into a casino in 2007 by the mighty Caesars Entertainment https://onlinecasinosenargentina.com. Showed up ready to gamble, decided I wanted to eat first.