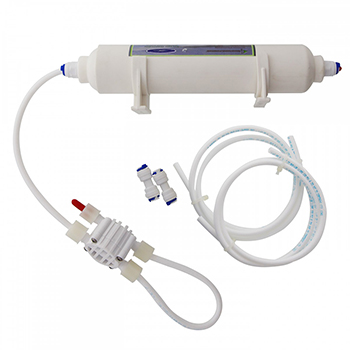 Going to the tap on the front of the refrigerator instead of the using the faucet may not do you any favors when it comes to filling your glass with better, safer drinking water. The water line running to the tap on your refrigerator typically comes straight from the wall… so the quality of the water coming from the refrigerator will match the quality of the water coming out of any other faucet in your home.
While some newer refrigerators do come with inline filters for water and ice cubes, some do not. Check your manual to see if your refrigerator came with some sort of inline refrigerator water filtration unit. If it did, and you have not changed the filter in a long time — or perhaps ever — you may want to consider doing that real soon.
Some filters do not simply clog up when they become full. Instead, some clogged water filters allow unfiltered water to bypass their filtration media. That unfiltered water winds up floating in your iced tea and/or crystallized in your ice cubes. Not a very appetizing thought, right?
As always, before toy invest in a water filtration system of ANY kind, make sure you get your water tested by a certified water testing laboratory such as Suburban Water Testing Labs, Inc. and perform routine at-home water quality tests to make sure the filtration system you purchased continues to do its job correctly.