As many of you already know, Water Testing Blog believes quite strongly that private well owners should test and/or have their well water tested periodically. Many of you also know that each and ever chance we get, we will repeat our position on the matter and provide our readers with reasons why periodic well testing makes sense.
This time our quest for reasons to test well water took us to Union Township in New Jersey where the town's Environmental Commission and the South Branch Watershed Association have teamed up to promote the testing of local well water by well owners.
On Wednesday April 14, 2010, Union Township residents will have a chance to get their well water tested by a certified water lab for various forms of bacteria and nitrates for a discounted rate of $50.
Test kits must be purchased in advance from March 29 until April 13 between 9 a.m. and 4 p.m. at the township Municipal Building, Perryville Road. No cash will be accepted — checks only, please. Kits must be delivered back to the Municipal Building with your sample on April 14 between 7 and 10 a.m. Additional information about the tests and the procedures is available in the Township Clerk's office there, or call the South Branch Watershed Association at 908-782-0422 ext 10.

"Most people in our watershed rely on private wells for their drinking water and other household needs," said Bill Kibler, executive director of the Watershed Association. Wells, which draw water out of underground aquifers, may be susceptible to contamination that seeps in from the surface of the ground or that has infiltrated the aquifer itself. The proximity of a well to a septic system, or an area where animal waste is allowed to accumulate, increases the chances that the water may become contaminated. Shallow wells with little or no casing may be more susceptible to contamination than deeper cased wells.

"There is no water utility company or public agency that is responsible for testing well water," says Kibler. "Private well owners are essentially on their own when it comes to monitoring their wells for contamination. Because of this, the U.S. Environmental Protection Agency recommends that homeowners have their well water tested annually. The South Branch Watershed Association is here to help people test and protect their drinking water."

The association is able to offer the testing at a reduced cost through an agreement it has with a state-certified testing laboratory.

Additional information about the association and its other programs is available at its web site at www.sbwa.org. ( source )
For those just tuning in, if you own a well and you DON'T get it tested periodically for things like coliform bacteria, nitrates, arsenic, heavy metals and pesticides, you really ought to consider changing your ways!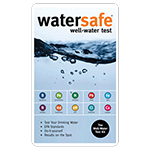 Why bother testing well water after the well passes its initial water quality tests? Simple: As demand on the aquifer from which your well draws its water changes, when weather patterns shift, and/or when some jerk with a load of industrial garbage dumps it near a waterway (or runoff stream) that feeds the aquifer… the quality of water in the aquifer can suddenly change.
Bacteria, toxins and poisonous metals could care less where they end up and if fate, gravity or negligence guide them towards your water supply, no one will watch for them if you don't. In other words, the EPA won't stop by one Saturday morning to see if you have safe drinking water.
So please test your well water on a regular basis. Local authorities would not offer discounted (or sometimes free) well water testing if they didn't know for sure that water from a well can sometimes become contaminated by something as simple and natural as Spring weather melting snow and creating runoff 200 or more miles away from the location of the well.
One More Thing…
At-home Drinking Water Test Kits serve as excellent screening tools but only drinking water quality testing performed by a certified drinking water testing lab such as National Testing Laboratories can give the final word as to whether or not you have safe water coming out of your well.