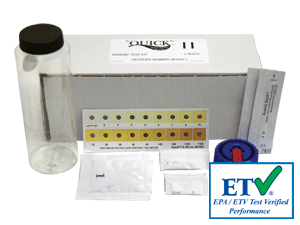 The Arsenic Quick Test II Mini-Kit detects low levels of arsenic, as low as 2 ppb (micrograms/L), in just 14 minutes. Testing can take place as easily in the field as it can in a lab, in a home, or just about anywhere.
To make testing for arsenic in private wells more affordable, Arsenic Quick Test II Mini-Kits contain enough of the three needed reagents — tartaric acid (food grade), zinc powder, and monopersulfate — and patented detection strips to run two full tests for arsenic in water.
While other arsenic test kits use harsher acids and have more complex testing procedures, Arsenic Quick Test Kits provide a safer, faster method for testing arsenic in well water, groundwater, surface water, etc.
Arsenic Quick Test Kits work so well, in fact, that the States of Michigan and Arizona have each incorporated an Arsenic Quick Test Kit into their Arsenic Testing Compliance Regulations.