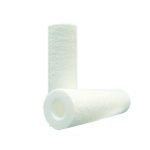 No matter what water filtration system you have, eventually you will HAVE to replace a filter cartridge or replace the entire filter if you purchased a disposable filter.
For those of you opted for a more long-term drinking water filtration solution such as a Kinetico® Water Filter System, the GE Osmonics® Purtrex PX05 9 7/8″ replacement filter will work just fine. In fact, it may even work better than the filter cartridge that came with your system.
The Purtrex PX05 9 7/8″ filter has lower density at the surface with progressively higher density towards the center which helps it capture particles throughout the entire depth of the filter — as opposed to filters of uniform density which may only collect contaminants on their exteriors.
This replacement filter also meets FDA Title 21 requirements for food and beverage contact and incinerates down to trace ash for easy disposal.
You can also use the Purtrex 5 Micron Sediment Filter in place of the following cartridges:
American Plumber WP5
Aqua-Pure AP110
Aqua-Pure AP010
Bunn S5-10
Bunn ED-S-1
Cornelius COR120
Cornelius COR105
Culligan P5
Cuno CFS110
Ecolab 9320-1135
Everpure DEV910908
Flotec P5 155014-43
Manitowoc K-00173
Manitowoc K-00069
NuCalgon 4712-87
Pentek P5
Puremark PFS105
Selecto 101-230
Shurflo 15-052-00
Shurflo SF31-SEDS