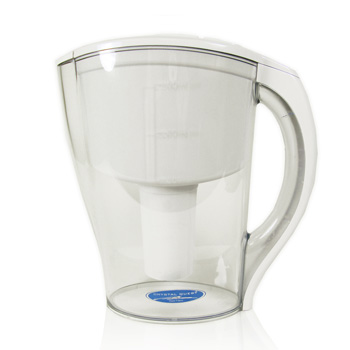 Crystal Quest Pitcher Water Filter
Manufacturer: Crystal Quest
Model Number: Pitcher-Ultimate
Large capacity water pitcher w/ built-in filter provides clean, great-tasting water conveniently chilled and stored in your refrigerator.
Capable of removing more than 99% chlorine from more than 2,000 gallons of water, this large 10-cup (2.5 quarts) pitcher features a slim, space-saving shape that fits neatly in pretty much any refrigerator. Filters have a life expectancy of between 6 and 12 months depending upon water usage rate.
The Crystal Quest Pitcher Water Filter makes use of a high quality 4 filter technology to produce drinking water of superior quality:
Stages 1 & 2 — Two types of specialized filtration media (KDF55 and KDF85) greatly reduce and/or eliminate dissolved metals such as iron, mercury, copper, nickel, chromium. Bacteria also gets filtered out at this stage.
Stage 3 — Ion exchange resin reduces heavy metals such as lead, copper, and aluminum. Water hardness levels get drastically reduced in this stage as well.
Stage 4 — Granulated activated carbon (GAC) reduces chlorine (99.9%), removes bad taste(s) and odor(s), and reduces pesticides and chemicals linked to increased cancer risks (i.e. benzene, TTHMs and toxaphene).

Need another great reason to consider the Crystal Quest Pitcher Water Filter? Consumer Digest rated it as a best buy for 2 years in a row (2006, 2007).

Your Cost at FilterWater.Com: Around $25