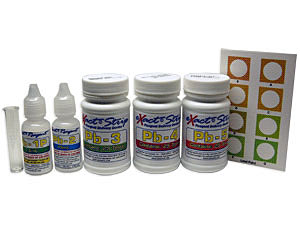 Why do you see a blog posting dealing with testing for lead in paint on a web site dedicated to water quality and water quality? Simple: The folks responsible for this site care about the health and safety of families and want them to live lead-free lives whenever possible.
Why should a family or person have to wonder whether or not the paint covering their furniture, window sills, radiators, walls, baseboards, etc. contains harmful lead when a simple, easy-to-use test kit for lead in paint like the LEADQuick Paint Home Test Kit contains 25 tests and each test takes only minutes to perform.
Using visual detection method which makes use of a new & improved red-green color development technology, LEADQuick Paint Home Test Kit detects the presence of lead on surfaces including wood, plaster, drywall, and metal.
The LEADQuick Paint Home Test Kit includes:
10 – Testing Tubes: Small polystyrene test tubes
1 – eXact® Reagent Acid-1 in a dropper bottle
1 – eXact® Reagent PB-2 in a dropper bottle
1 – eXact® Strip PB-3P bottle of 50 strips
1 – eXact® Strip PB-4 bottle of 25 strips
1 – Foam Test Tube Holder
1 – Instruction Manual
1 – Lead Paint Drywall 'Standard'
While newer homes must pass certification tests prior to sale and may not contain lead-based paints, the law does not always require older homes that have passed down from family member to family member an/or as rental properties that have not changed owners in many years to comply with newer lead regulations.
Testing for Lead in Water
Given all the publicity that lead in water contamination has received in recent years, it should come as no surprise that people have interest in testing their drinking water for lead.
Remember: At one point copper piping joined by solder containing lead went into pretty much every home and office.
Got interest in testing for other metals in your drinking water? No problem. The following test kits will make that task a breeze!