We recently received an email from Mark in Brooklyn who recently made some discoveries when he tested the water in a building he just purchased. Good news about Mark, though, is that unlike a lot of building owners, Mark wants to take proper steps to make sure his future tenants have safe, clean water flowing into their apartments/offices/etc.
Hi,

I recently purchased a house in Brooklyn 11xxx and did a quick water test at home ,while taking guidance from Insight Pest Control Wilmington. I found lead which makes sense as there is an old lead water main. I also found pesticides in the water too. I want to have a professional test the water and recommend solutions to ensure the safety of my family and tenants. Can you recommend someone to do this. I already sent off for the NYC lead test.

Thank you!

Mark
As usual, it pleases us greatly when we hear of people taking action on their own to guarantee the safety of their drinking water. We applaud Mark, and all others like him, for their proven interest in drinking water quality not only for themselves, but for others, too.
Who ya' gonna call?
No, Bill Murray and the Ghostbusters cannot help with problems like lead and/or pesticides in drinking water. Since you reside in NY, Mark, you may want to check out this page on the EPA's web site about water in NY. On that page you will find a link to the EPA's List of State Certified Drinking Water Labs, but to save you some time we will list the certified water labs in Kings County below:
LABID: 11972: GREEN PLANET LABS, LLC
63 FLUSHING AVE BLDG. 292 SUITE 404, UNIT 206
BROOKLYN NY 11205
MS. ALYSSA MCDONALD (718) 858 -7020
* Approved for Testing Potable Water
LABID: 11671: WYCKOFF HEIGHTS MEDICAL CENTER
374 STOCKHOLM STREET
BROOKLYN NY 11237
DR. WILLIAM L. THELMO (718) 963 -7519
* Approved for Testing Potable Water
We hope that one of the above labs can help, Mark!
Water treatment companies and water testing
ALWAYS remember that a water treatment company's primary objective involves you opening your purse/wallet and handing over payment for a water treatment system… and in many cases a water treatment company may employ a 'scare tactic' to get you to do so.
The wonders of water chemistry (and the general public's general lack of understanding of water chemistry) make it possible for clever water treatment system sales personnel to put on a good show when testing a prospective customer's water; a show that adds a visual punch to the sales person's explanation of why a prospective customer should buy a water treatment system. NOW.
Get water testing results beforehand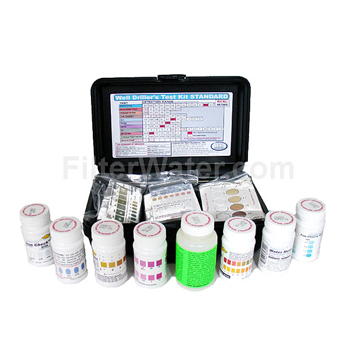 While not all water treatment companies will use deceptive tactics like the one mentioned above, we believe it makes complete and total sense to have a third party, certified water testing lab test your water before talking to a water treatment company.
Doing so may keep you from talking to one at all if the test results come back not indicating any problems with the water!
Doing your own testing
Yes, of COURSE we feel people should test their own water periodically. One 'clean bill of health' water test when first starting to use a water sources does not mean something may not happen a month or year down the road to cause that source to become contaminated in some way.
At-home drinking water test kits do not test for as many contaminants or as low a level of many contaminants, but they do work as excellent screening tools that don't cost an arm and a leg.
Below you will find a brief list of popular water test kit manufacturers:
Below you will find a brief list of commonly inquired about water test kits: