Since we started this site we have gotten TONS of questions sounding very much like, "Which test kit should we trust?" and today we'd like to share some actual feedback from FilterWater.Com customers who have both purchased and used a test kit we talk about quite often on … the Water Quality Test Kit from the makers of SenSafe and WaterSafe test kits.
Rebeka on 4/7/2011, said: "I was skeptical at first that a product would be able to tell me something that I thought I would have to pay a professional to test. To my amazement this water test kit worked very well for me with fast and accurate results. I'm very satisfied with the product, it was very easy to use." ( source )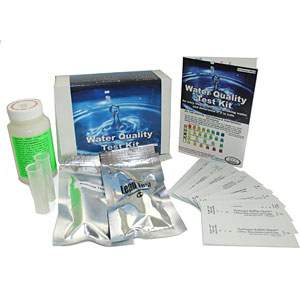 So… What does the Water Quality Test Kit test for? So glad you asked!
Free Chlorine – 2 tests
Total Chlorine – 2 tests
Chloride – 2 tests
pH – 2 tests
Total Alkalinity – 2 tests
Total Hardness – 2 tests
Nitrate – 2 tests
Nitrite – 2 tests
Iron – 2 tests
Sulfate – 2 tests
Hydrogen Sulfide – 2 tests
Copper – 2 tests
Lead – 1 test
Pesticide – 1 test
Bacteria – 1 test
We did say that we would provide you with feedback from more than one user, so here you go:
Michelle on 1/27/2011, said: "This water quality test kit is a great product that I would recommend to anyone. I'm in the real-estate market, and some places I show my clients have less than desirable water. This kit is an easy way for my clients to find out what they are getting into as far as there water source goes. My clients and I have found this kit very helpful and I will continue using them. A+" ( source )
So there you have actual testimonials from real people about the benefits offered by the Water Quality Test Kit. Now can you see why all of us here at Water Testing Blog like that kit so much?
For a little over 30 bucks you can test your water for 12 drinking water parameters two times and lead, pesticides (atrazine & simazine) and coliform bacteria once.
Does this test kit take the place of laboratory testing?
No, no, no, and NO. Home drinking water test kits work well as a means of performing on-the-spot testing between laboratory tests. Not at-home drinking water test kit which has the user interpret the results takes the place of water testing performed by a certified, qualified water testing lab.