In a perfect world no one would need a water filter. Ever. They could just open up the faucet at any time of the day, night or year and have pure, contaminant-free tap water pour freely into a glass.
But, since we CLEARLY don't live in a perfect world, many of us have tap water that tastes nasty and could also possibly contain some unwanted nasty contaminants. Therefore, until we can make this world perfect it may make sense to install some sort of water filter in your home and/or office if you want better tasting and possibly safer drinking water.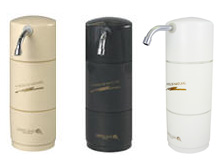 How much maintenance do water filters require?
About a year or two ago we would have said that all water filters require at least SOME maintenance in the form of filter cleaning, filter replacement that required tools, a semi-complicated backwashing procedure, etc. but not anymore.
Recently we have seen a lot more drinking water filters enter the marketplace with claims of 'zero or low maintenance'. As an example, a company by the name of Crystal Quest has come out with a sealed countertop water filter that uses a 6-stage filter to remove unwanted drinking water contaminants from up to 10,000 gallons of drinking water.
After the filter stops working in 1 to 3 years, depending upon the amount of contaminants in the source water, simply disconnect its hose, dispose of the unit properly, and install a new one. No plumbing experience required!
Do disposable water filters really work?
We cannot say that all disposable water filters perform as they should, but we can say that the manufacturers of this unit have proof of its effectiveness. Take a look at the unit's water test results on the FilterWater.Com web site.
Need a test kit for your drinking water? You may want to consider a kit such as the Water Quality Test Kit offered by the makers of SenSafe Water Test Kits.