Today's inquiry came to us from 'Ramprakash' who very plainly said, "I want to buy Master Water Testing Kits".
We think you have excellent taste water test kits, Ramprakash, because the Well Driller Master Test Kit puts the power to perform multiple samplings on water sources right where it belongs: In the hands of private well owners.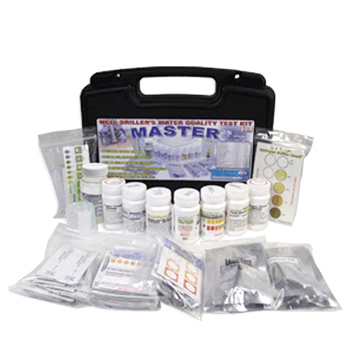 The Well Driller Master Test Kit comes with 50 Free Chlorine Test Strips, 50 Ultra Low Total Chlorine Test Strips, 50 Hydrogen Sulfide Tests, 50 Total Hardness Test Strips, 50 Nitrate/Nitrite Test Strips, 50 pH Test Strips, 24 Manganese Tests, 50 Water Metals Test Strips, 10 Arsenic Tests, 25 Iron Tests, 50 Copper Test Strips, 2 Lead in Water Tests, 2 Pesticide Tests, and 1 bottle of Bacteria Test.
Where to buy the Well Driller Master Test Kit?
At this time we know that FilterWater.Com carries both the Well Driller Standard Test Kit and the Well Driller Test Kit.
The Standard kit has a few less tests and costs around $160 while the Master kit has a cost of around $240.
Regardless of which option you choose, we suggest picking up extra Coliform Bacteria Tests since both kits come with only one test for bacteria. You can acquire extra Coliform Bacteria Tests in our Water Test Kit Store for around $7 per test.