OK, so what does this post have to do with water, especially given the fact that the makers of Coca-Cola have their sticky (sugary) fingers involved somehow? Quite simply, the EKOCENTER kiosks, as their inventors named them, spring forth from a 20-ft shipping container to provide water-poor, impoverished regions of the world with safe, clean drinking water produced using minimal electricity and capable of deriving power to operate from local waste sources.
Sound too good to be true? Gladly, the test runs for the Slingshot water-producing equipment that go in the EKOCENTERS went well in Ghana despite unpredictable power outages and shortages of fossil fuels that other systems designed in the past required.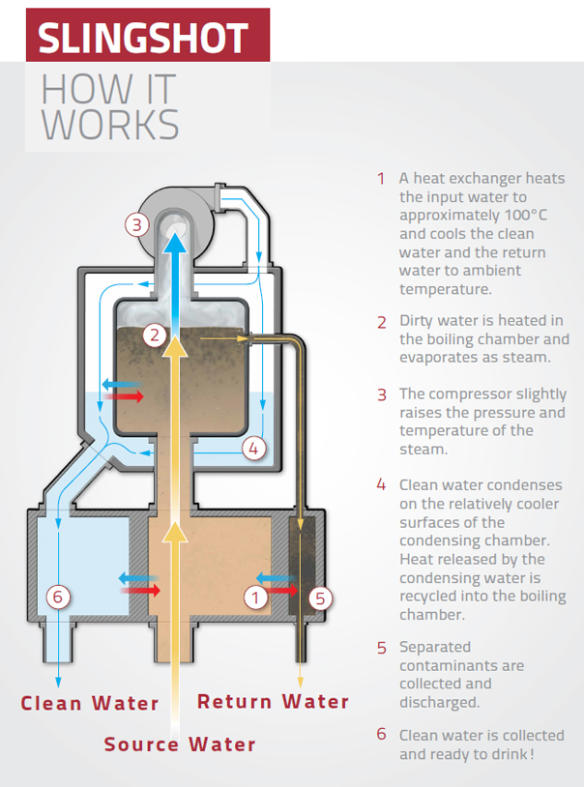 The Slingshot's inventor (Dean Kamen) and his team of engineers predict that each Slingshot unit will produce around 1,000 liters of water per day, take up less room than a standard refrigerator, and run virtually maintenance free for several years.
Naturally, since big business has its fingers in the mix, the kiosk will also serve as a retail source of necessary supplies for residents of the region and it creators also envision the unit as a central gathering point for social activities, etc.
So far, Coca-Cola and the makers of Slingshot water-producing equipment have plans to install EKOCENTER kiosks in about 20 countries by 2015 which means a whole lot of water-deprived people will soon have access to safe, clean and quite vital-for-survival drinking water.