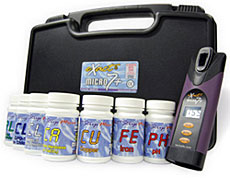 No one in their right mind would argue that testing water for drinking, use in a pool, watering crops, etc. has to happen. One might, however, argue that using test strips and liquid test kits which require the user to match colors can lead to approximations and assumptions regarding critical water parameters such as pH, chlorine/bromine/sanitizer levels, alkalinity, total hardness, heavy metals, etc.
We all know what assumptions can lead to: Making an a## out of you and me.
No one wants to get sick from dirty or polluted water so when accuracy matters most, you may want to put down the test strips and liquid test kits and opt for a verstile water testing meter such as the eXact Micro 7+ which tests for NINE critical water parameters using direct read measurements and an additional TWENTY-SEVEN other important water parameters with the use of a conversion chart.
Features of the eXact Micro 7+ Water Testing Meter:
Tests for 36 parameters in total
Nine direct read parameters — Total Alkalinity, Bromine, Calcium Hardness, Free Chlorine, Total Chlorine, Copper, Ozone, Permanganate, and pH
Twenty-Seven parameters using a conversion chart: Ammonia, Chloride (as NaCl), Chlorine Dioxide (DPD-1), Chromium Hexavalent, Cyanuric Acid, Fluoride, Hydrazine, Hydrogen Peroxide (Low, Mid and High Range), Iodine (DPD-1), Iron (Fe+2), Total Iron (Fe+2/Fe+3), LR Total Hardness (as CaCO3), Magnesium, Manganese, Nitrate (as NO3), Nitrite (as NO2), pH (Acid and Alkali), Potassium, Protein (as BSA), Sulfate, Sulfide, and Turbidity
USEPA Compliant meter for Free & Total Chlorine — 0.01 ppm (mg/L) precision
Built-in, permanent cell — no loose glass or plastic cells to lose
Easy fill testing — Simply fill or dip meter into water
Automatic countdown timer for accurate timing of testing
140 test memory — saves 20 tests per menu item
Incorporates eXact® Strip technology — safe & reliable reagent dispersion
No-slip grip housing — ideal for wet testing conditions
Lightweight — weighs only 6 ounces w/ batteries installed
Waterproof — IP-67 Rated and meter will float if dropped into water
Easy-to-read LCD display — no color matching required
Environmentally friendly — recyclable parts & uses 60% less reagents than 10mL sample tests
Proprietary optics — allows for accurate testing without cap
CE certification
Interested in learning how this device works? Check out the image below as it takes you through the steps of how to test w/ the eXact Micro 7+ Water Testing Meter.