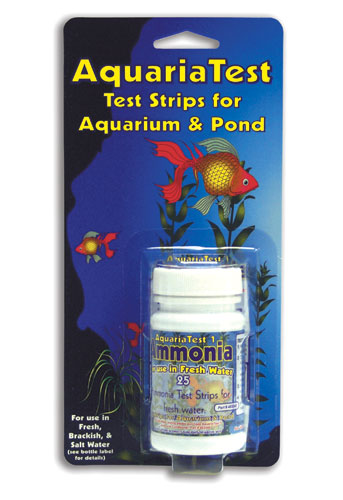 Every once in a while we get a request for information related to testing pond water and aquarium water. Today we bring news of a product, AquariaTest™ Ammonia, that makes testing the ammonia levels in pond and aquarium water very easy.
Ammonia Aquarium and Pond test strips provide a water quality testing alternative to older testing methods which required the use of chemicals in liquid, powder, and/or tablet form. Ammonia AquariaTest™ also shortens testing times and makes it easy for anyone, novice or expert, to test the ammonia levels in their water.
As an added feature, the AquariaTest™ Ammonia will also work in salt (or brackish) water*.
How to test for ammonia in fresh water:
Using supplied pipette, fill one of the supplied vials half full (3 ml) with water.
Cap vial and shake for 30 seconds
Remove cap and dip one test strip for 30 seconds with back and forth motion
Remove the strip and match to the closest color on a chart
AquariaTest™ Ammonia Test Specifics:
Ammonia Detection Range: 0, 0.2, 1.0, 2.0, 5.0
Test Time: 1 minute
Tests per Kit: 25 test strips
* — Instructions for testing ammonia levels in brackish and salt water included in the test kit.