Kyle from Florida asked,
My company does a lot of plumbing work for residential and commercial customers. Not all the time, but many times we get asked to test the water once we finish a job. I see a lot of test kits that use drops and those test strips on the market, but I want to use something a bit more professional like a meter of some sort. All the meters I've seen out there that test for a bunch of parameters have a ton of buttons, vials, powders and an instruction manual you could use to knock out a cow. Do they make a multipurpose water testing meter for the simple guy? Thanks for your help and I love the site. Lot of good info here!
Stop it, Kyle, before you make us blush!
To answer your question directly, yes you can find a reliable water testing meter made for the 'simple guy' and no you will not have to attend night school just to figure out how it works.
The eXact Micro 7+ Water Testing Meter offers extreme versatility, has only one button to worry about, does not use vials, and comes with a handy, compact manual barely capable of killing a fly.
Below you will see a quick demonstration of how easily you can test water:
Now Kyle, if that looked like too much work, or like it involved way too much 'technical stuff', then you may as well hang up your water testing hat(?) and send all your samples out to a place like National Testing Labs 'cuz testing water in the field does not get any easier than it does with the eXact Micro 7+ Water Testing Meter.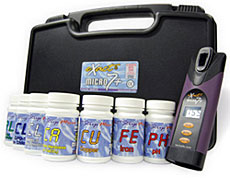 Direct read parameters — Total Alkalinity, Bromine, Calcium Hardness, Free Chlorine, Total Chlorine, Copper, Ozone, Permanganate, and pH
Additional parameters — Ammonia, Chloride (as NaCl), Chlorine Dioxide (DPD-1), Chromium Hexavalent, Cyanuric Acid, Fluoride, Hydrazine, Hydrogen Peroxide (Low, Mid and High Range), Iodine (DPD-1), Iron (Fe+2), Total Iron (Fe+2/Fe+3), LR Total Hardness (as CaCO3), Magnesium, Manganese, Nitrate (as NO3), Nitrite (as NO2), pH (Acid and Alkali), Potassium, Protein (as BSA), Sulfate, Sulfide, and Turbidity. Kit includes conversion chart for these parameters.
USEPA Compliant meter for Free & Total Chlorine — 0.01 ppm (mg/L) precision
Built-in, permanent cell — no loose glass or plastic cells to lose
Easy fill testing — Simply fill or dip meter into water
Automatic countdown timer for accurate timing of testing
140 test memory — saves 20 tests per menu item
No-slip grip housing — ideal for wet testing conditions
Lightweight — weighs only 6 ounces w/ batteries installed
Waterproof — IP-67 Rated and meter will float if dropped into water
Easy-to-read LCD display — no color matching required
Environmentally friendly — recyclable parts & uses 60% less reagents than 10mL sample tests
CE certification