No matter how many 'new' and/or 'innovative' methods scientists devise to make water safe for drinking, we believe a certain faction in society will still put its trust in the sanitizing effects of free chlorine. This also means we believe a need for chlorine testing will always exist.
As an immediate example of this need, a Water Testing Blog reader named John recently asked, "Hi I am installing a 5000 litre water tank which i intend to add chlorine to and need an inexpensive free chlorine meter could you advise me on what to purchase as this is a new venture for me. Regards,John M."
Thank you, John, for your question and more importantly for reminding us that we needed to examine the cost of chlorine meters at some of our favorite online merchants: FiltersFast.Com, WaterFilters.Net, FilterWater.Com, IsoPureWater.Comand Test Products.
In no particular order…
FiltersFast.Com still carries the eXact Micro 7+ Water Testing Meter and they currently sell the basic water quality kit for $200.

While perusing the site we noticed that FiltersFast.Com appears to carry several of the more commonly used replacement reagentstrip bottles for the eXact Micro 7+ meter: Total Alkalinity, Bromine, Calcium Hardness, Free Chlorine, Total Chlorine, Copper, Ozone, Permanganate, pH.

We saw no other chlorine testing meters available on the site.

FilterWater.Com continues to carry the eXact line of water testing meters and currently has three kit versions of the eXact Micro 7+ available: Standard Water Quality for $249, Pool and Spa for $249 and Chlorine Photometer for $229.

Each kit features the same meter, but comes with a different set of reagentstrip bottles tailored to meet the needs of a specific water testing application/market.

In addition to the eXact Micro 7+ meter kits, we also noticed that FilterWater.Com also carries a newer eXact meter called the eXact Micro 8 Meter. That meter did not, however, appear to test for chlorine.

WaterFilters.Net does not appear to carry any chlorine testing meters at this time.

On the IsoPure Water web site we found the Extech (CL200) Exstik Direct Digital Reading Chlorine Meter for around $170.

According to the description given, the Extech (CL200) Exstik Chlorine Meter provides only Total Chlorine results, provides results in roughly two minutes, detects as little as 0.01 ppm total chlorine, will not give erroneous results due to turbid or cloudy water, stores up to 15 readings, and has USEPA Approval for use as an acceptable method for wastewater compliance monitoring of Total Chlorine.

We have heard very little about this meter except that it uses dpd tablets which may or may not be unique to the meter: Extech (CL203) Exstik ExTab™ Chlorine Reagent Tablets.

Also on this site we saw the Oakton C301 Chlorine & pH Testing Meter which very closely resembled the second generation of the eXact meter — except in cost.

If memory serves us correctly, the eXact meters cost around $250 or $300 when they first came out and the Oakton C301 Chlorine & pH Testing Meter costs around $530. We cannot, at this time, explain the price disparity.

Perhaps if a member of Oakton's staff stumbles across this posting they will find it in their heart to drop us a quick line and tell us what makes their meter better than the second generation eXact meter and worth the extra money?

Last but least, we noticed a change that kind of takes us back… TestProducts.Com, one of the web sites for National Safety Products, now seems to carry only one chlorine testing meter and although the meter they carry does have quite an affordable price, we feel folks ought to read the fine print before making a purchase.

National Safety Products now only carries one chlorine testing meter, and that meter costs around $20.

What? A chlorine testing meter that costs so little?

Apparently so, friends, but buyer beware! This description for this meter states it requires no chemicals (DPD) and also blatantly says that you will need to calibrate it using another method (i.e. another meter, test strips or a liquid test kit).

Sorry National Safety Products, but we simply do NOT see the logic in the average person owning a chlorine testing meter that does NOT make use of established, trusted DPD chemistry. ORP (we guess that's what this meter uses) technology has its place, sure, but usually in better controlled (i.e. professional, regulated, automated) environments than the average homeowner's water source, well, etc.
And in conclusion…
The USEPA approves of using DPD when testing drinking water and/or wastewater for chlorine content. Therefore, we suggest you invest in a system that uses DPD for free chlorine and/or total chlorine residual testing.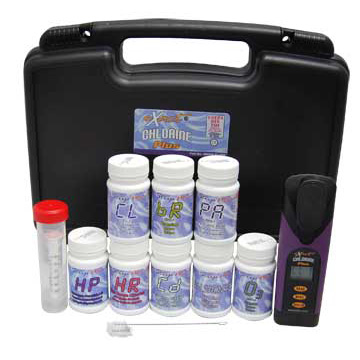 EPA Compliant Meter for Free & Total Chlorine Testing
. . . When Used w/ Reliable, Trusted DPD Chemistry