No matter how many 'new' and/or 'innovative' methods scientists devise to make water safe for drinking, we believe a certain faction in society will still put its trust in the sanitizing effects of free chlorine. This also means we believe a need for chlorine testing will always exist.
As an immediate example of this need, a Water Testing Blog reader named John recently asked, "Hi I am installing a 5000 litre water tank which i intend to add chlorine to and need an inexpensive free chlorine meter could you advise me on what to purchase as this is a new venture for me. Regards,John M."
Thank you, John, for your question and more importantly for reminding us that we needed to examine the cost of chlorine meters at some of our favorite online merchants: FiltersFast.Com and FilterWater.Com.
In no particular order…
FiltersFast.Com still carries the eXact Micro 7+ Water Testing Meter and they currently sell the basic water quality kit for $200.

While perusing the site we noticed that FiltersFast.Com appears to carry several of the more commonly used replacement reagentstrip bottles for the eXact Micro 7+ meter: Total Alkalinity, Bromine, Calcium Hardness, Free Chlorine, Total Chlorine, Copper, Ozone, Permanganate, pH.

We saw no other chlorine testing meters available on the site.

FilterWater.Com continues to carry the eXact line of water testing meters and currently has three kit versions of the eXact Micro 7+ available: Standard Water Quality for $249, Pool and Spa for $249 and Chlorine Photometer for $229.

Each kit features the same meter, but comes with a different set of reagentstrip bottles tailored to meet the needs of a specific water testing application/market.

In addition to the eXact Micro 7+ meter kits, we also noticed that FilterWater.Com also carries a newer eXact meter called the eXact Micro 8 Meter. That meter did not, however, appear to test for chlorine.
And in conclusion…
The USEPA approves of using DPD when testing drinking water and/or wastewater for chlorine content. Therefore, we suggest you invest in a system that uses DPD for free chlorine and/or total chlorine residual testing.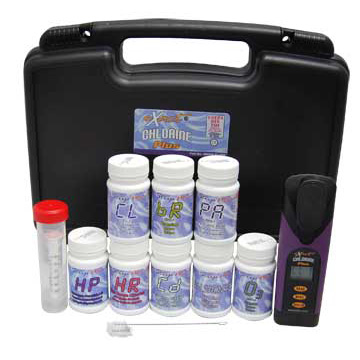 EPA Compliant Meter for Free & Total Chlorine Testing
. . . When Used w/ Reliable, Trusted DPD Chemistry