We get questions asking us about test kits for fluoride on a regular basis and today we have some exciting news: FilterWater.Com has partnered with National Testing Laboratories and now carries a home drinking water test kit for fluoride that allows homeowners to find out if their water contains fluoride, and if so how much, in as little as 5 days.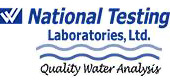 Why test for fluoride?
While considered 'safe' by the USEPA for use as a drinking water additive that helps prevent tooth decay, countries in Europe and other places around the world have outlawed its use because of studies that have shown a correlation between fluoridated water and serious health problems.