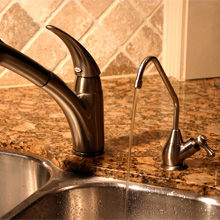 We recently posted a blog entry about the benefits of Aquasana AQ-4000 Water Filtration Systems and informed you that you could purchase Premium faucets featuring brushed nickel or chrome finishes separately.
Well you COULD do that, OR you could simply order the Aquasana AQ-4501 Deluxe Under Counter Water Filter System that comes with your choice of Premium faucets.
Oh, and by ordering the complete kit from FilterWater.Com you will also get free Ground Shipping.
All the benefits of NSF/ANSI 42 and NSF/ANSI 53 certification plus an attractive polished metal faucet… delivered right to your door w/o you having to pay for shipping.
Yes. Yes, you may have died and gone to water filter heaven.