Occasionally we will receive an inquiry from someone looking to remove specific contaminants from their drinking water. 'Debi' sent an email asking:
Looking to purchase a countertop water filter. Are you able to recommend a countertop water filter that removes VOCs, Alachlor and benzene?
As a matter of fact, Debi, we DO know of a countertop water filter capable of removing alachlor and benzene. It does a whole lot more, too!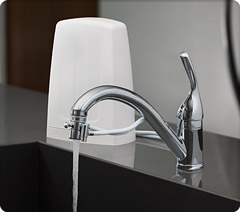 Certified to NSF/ANSI 42 (aesthetic) and NSF/ANSI 53 (health-related), the Aquasana Countertop AQ-4000 Dual Filter Water Filter also possesses a California Department of Health Certificate (#06-1792).
What does all of that mean to the average person? Simply put, it means the Aquasana AG-4000 Countertop Water Filter removes and/or reduces contaminants responsible for ruining water's aesthetic properties (i.e. taste, odor, etc.) AND contaminants that can adversely affect a person's health (i.e. alachlor, benzene, THM's, cryptosporidium, VOC's, etc.)
As a direct result of this unit's excellent performance, Consumers Digest Magazine labeled it a "Best Buy" in 2003, 2004, 2005 and 2006. (source)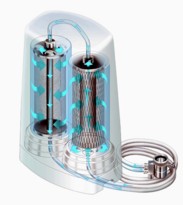 Making use of an innovative and exclusive dual filter design comprised of carbon filtration, sub-micron filtration and ion exchange media, the Aquasana AQ-4000 does an exceptional job of removing chlorine' lead' synthetic chemicals' VOCs, THMs' MTBE, Turbidity, and Cysts (chlorine resistant parasites) and other unwanted drinking water contaminants.
While reverse osmosis units have a tendency to remove trace minerals required by the human body for optimal health and leaves water tasting 'flat', the Aquasana AQ-4000's selective filtration process allows them to pass through resulting in healthier, better tasting drinking water.
Included with the unit you will receive the necessary filter cartridges, a chrome faucet diverter and easy-to-read installation instructions.
With regard to installation, the Aquasana AQ-4000 installs in just a few minutes and will allow you to easily switch from filtered to unfiltered with the touch of a button.
Provides high quality, purified water at a rate of up to 30 gallons per hour.
Housing manufactured using BPA-free ABS plastic.
Filters last for between 500 and 1,000 gallons depending upon condition of source water, or approximately 6 months.
Low replacement filter costs… approximately $48 for a complete set of filters.
Removes 99% of chlorine, 99% VOCs, 99% lead, 99% THMs, 99.99% Cysts, 99% Lindane, 99% Atrazine, 99% Alachlor, 99% Benzene, 93% MTBE… and many more contaminants (see full list)
For those of you who don't want to clutter your counter space with a water filter, you can also get the Aquasana AQ-4000 as an undercounter model which comes complete w/ an attractive, lead-free faucet and all the required accessories (fittings, tubing, brackets, etc.) to install the system. See below.