Per the request of several men and women currently serving in the United States Armed Forces and other branches of the Unites States Government, we will begin posting possible alternate products for popular (established) NSN's (National Stock Numbers) related to water quality testing.
NSN: 6550012191061, 6550014257957 — Chlorine Test Tablets
"DPD REAGENT TEST TABLETS FOR CHLORINE ANALYSIS. PACKAGED IN INCREMENTS OF 100. LAMOTTE."
Alternatives:
DPD 1, 3 and 4 ReagentStrips — Faster and more convenient than traditional DPD test tablets. No MSDS required. Safe to use on production room floors of food processing facilities. EPA Compliant testing method. Packaged in bottles of 50 or individually wrapped in foil packs. Costs as low as 8 cents a test.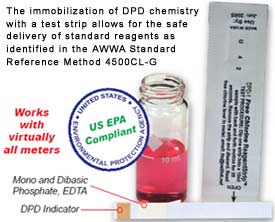 eXact® Strip DPD ReagentStrips
Note: We have found that the products suggested above meet or exceed the specifications of the original NSN (National Stock Number) item. This does not mean, though, that you may substitute them in place of the item on a Government Contract. We provided the above information as possible sources of water quality testing products for consideration in future Contracts/Bids only.