Since announcing Water Testing Blog's November giveaway of the WaterSafe Science Fair Project Test Kit (4-Pack) yesterday, we have received a number of inquiries from folks wanting to know what it is, so… here's the answer!
So… What IS the WaterSafe Science Fair Project Test Kit (4-Pack)?
The WaterSafe Science Project maximizes a child's (or tema of children's) scientific discovery by containing test materials for up to 4 different water samples. Each kit contains 4 test water for Lead, Bacteria, Pesticides, Nitrates, Nitrites, Chlorine, Hardness, and pH levels.
We make reports and displays easy! An interactive CD displays and compares your findings. Simply enter your data and print out your results!
Your next environmental science or ecology project will be a snap. Our clear and scientifically designed experiments will help you make the grade as you discover the world around you.
Each kit contains everything you need to test water for 8 common contaminants
Results relate to USEPA standards for each contaminant
Get clear results for the presence of lead or pesticides
Learn if your samples contain harmful levels of bacteria, chlorine or nitrates/nitrites
Get accurate pH and Hardness levels for your water
Our ready-to-use data sheets help you record your results quickly and efficiently
Did you know that potentially lethal bacteria such as E.coli can be found in some drinking water and that lead, a highly toxic substance, can leach from pipes or fixtures and straight into your faucets? Did you also know that millions of pounds of dangerous pesticides and harmful nitrates are still released into the environment every year?
Clean drinking water is vital to your health. It's time to take action and get involved! Learn about your environment and have fun doing it. Watersafe® Science Project kits help you design the perfect science experiment right in your own home!
Compare water from your faucets to that of store-bought bottled water
Find out if your water filter is actually working
Test rivers and streams near your home, school or recreation area
Find out what's in a rain puddle
Encourage kids to learn and take part in the world around them by investigating and making discoveries
Easy-to-read charts explain results clearly
Watch samples change colors before your eyes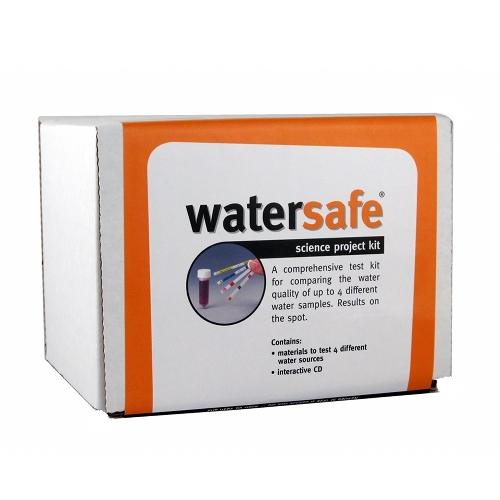 Click the Image for Your Chances to Win
a FREE WaterSafe Science Project Test Kit!
Compare water from your faucets to that of store-bought bottled water
Find out if your water filter is actually working
Test rivers and streams near your home, school or recreation area
Find out what's in a rain puddle
Encourage kids to learn and take part in the world around them by investigating and making discoveries
Easy-to-read charts explain results clearly
Watch samples change colors before your eyes