In past postings we discussed several options for removing chlorine from shower water and received numerous 'complaints' from readers who stated, each in their own way, that they "simply did not have enough room in their shower to install a bulky, cumbersome shower head filter."
Having lived in many apartments before finally each getting our own houses, all of us at Water Testing Blog fully understand not wanting to clutter small, cramped shower areas with extra plumbing fixtures.
Now, however, all you apartment dwellers have the affordable option of installing a Sprite Slimline Shower Filter which uses KDF-55 and Chlorgon Media (tested and certified against NSF/ANSI Standard 177 for the Reduction of Free Chlorine in Water) to dramatically reduce free chlorine concentrations in water.
Additionally, the Sprite Slimline Shower Filter (Manufacturer's Part Number SL-WH) also helps to balance the pH of water it filters and aids in reducing scale buildup on shower walls.
Will I need to replace my existing shower head?
Not with the Sprite Slimline Shower Filter! This unit installs directly behind your existing shower head and adds a mere 1.5″ to the fixture.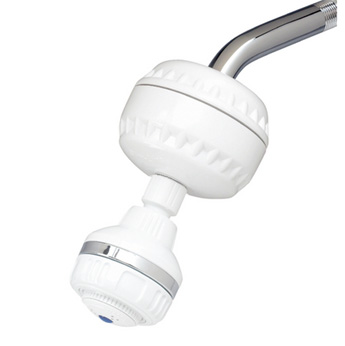 Notice How the Unit Installs Cleanly Behind the Shower Head
No plumbing experience to install this unit!
Why should I care about chlorine?
Recent and not-so-recent studies have drawn direct correlations between exposure to chlorine in shower and eye irritation, dry/itchy skin, damaged hair, and even hardening of arteries in some cases. Not to mention that folks with respiratory problems such as asthma or allergies often report worsening of symptoms as a result of chlorine exposure in the shower.
Where can I get a simple test kit for chlorine?
We still believe that SenSafe manufactures one of the simplest and cost effective methods for accurately testing both free AND total chlorine levels in water at the same time: The WaterWorks 2 Free & Total Chlorine Test Strip.
This product outperforms 'old school' OTO drop test kits for total chlorine and uses patented, EPA Approved test method to detect free chlorine levels — all with a dip-n-read test procedure!