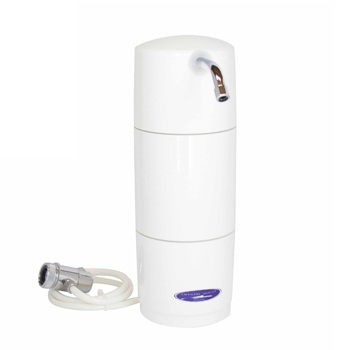 While the jury has not come back with a decision on whether or not fluoride in drinking water poses a serious health risk to people who drink water spiked with it, if you don't want it in your water Crystal Quest has recently come out with a convenient, easily installed countertop water filter for fluoride — and many other unwanted potential drinking water contaminants.
Crystal Quest manufactures a product called the Countertop Disposable Single Fluoride Multi PLUS Water Filter System which installs in seconds and effectively removes fluoride AND hundreds of drinking water contaminants — if present in the water to begin with.
Water travels through a series of seven filtration stages in this unit. You will find detailed information on those stages below:
Pre and Post One-Micron Filter Pads: Used in stages 1 and 7, this filtration method removes suspended particles including silt, sediment, cyst (Giardia, Cryptosporidium), sand, rust, dirt, and other undissolved solid matter.
Fluoride Removal Cartridge: Used as the second stage of filtration, water flows through a fine mesh synthetic aluminum oxide absorbent media which has an extremely high affinity for fluoride, lead and arsenic. Through a combination of adsorption and chemical reaction the media effectively removes metals over a wide pH range.
How much fluoride can the filter hold before it needs servicing? The filter will reduce 10ppm feeds to 0.2ppm for a total of 6,000ppm fluoride removed.
KDF Media Bed: The third and fifth stages of filtration feature proprietary blends of high-purity KDF resins (KDF-55D and KDF-85D) which work using electrochemical and spontaneous oxidation-reduction (REDOX) principles. In these stages compounds such as chlorine get neutralized. Laboratory testing has shown that combination KDF/GAC cartridges can remove more than 99% of chlorine from greater than 20,000 gallons of water.
During these stages iron and hydrogen sulfide also get oxidized and become an insoluble substance that attaches to the surface of the media. Additionally, heavy metals such as lead, mercury, copper, nickel, chromium, cadmium, aluminum, and other dissolved metals get removed from the water by an electrochemical process at this point.
Ion Exchange Resin: The fourth stage of filtration uses an ion exchange to further reduce/remove heavy metals such as lead, copper and aluminum. This stage also acts a water softener by reducing calcium and magnesium levels (aka: total hardness) in the water.
Granulated Activated Carbon (GAC): The sixth stage of filtration makes use of granulated activated carbon, a material universally accepted as a highly effective means of eliminating a wide range of unwanted contaminants such as chlorine, potential carcinogens (i.e. THM's, benzene, etc.), pesticides, herbicides, insecticides, volatile organic compounds (VOC's), PCB's, MTBE's and many more chemical contaminants that may show up in water. Many of these compounds create a 'bad' color, taste and/or odor in drinking water, but not all.
Important note regarding carbon filters… Some manufacturers use a lesser grade of carbon, but this filter uses a highly porous, and therefore more useful, carbon derived from coconut shells.
How do I know if I need a water filter like this one?
If you have concerns regarding fluoride in your drinking water, contact your local water department and ask for a copy of the most recent drinking water report. Some water districts have made their annual reports available online so you may want to look on your water district's web site first.
If your concerns deal with potential water contaminants that may have entered your water supply after it left the water treatment plant — bacteria, lead, heavy metals, etc. — then at-home drinking water test kits like the following may work just fine for you.
Keep in mind, though, that if you have serious reason to suspect drinking water contamination, you should seek the assistance and expertise of a certified water testing laboratory.